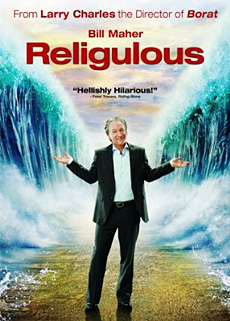 Image from uncrate.com
The question of a filmmaker's responsibility to his or her viewer is an oft asked, yet difficultly answered, one. It is a question that was top of mind for me as I watched Bill Maher's Religulous. In this documentary he claims to be going on a search to understand why people follow religions that are based in so much inconsistency and seeming lies. He posits at the beginning of the film that while the bible claims the end of days will one day be upon us, ultimately it will happen because of man's actions and behaviors. He also claims through the opening montage of the film that he will be exploring the three major religions. To a certain extent he a accomplishes this. However he spends about three quarters of the film refuting the words of Christians, while the last quarter is mainly devoted to debunking Muslim doctrine and only 2 short interviews with Jews.
Maher is known for his comedy and political commentary, and it is clear that documentary filmmaking is not his forte. The narrative is often disjointed, not having a clear connection from one point or interview to the next. He jumps around, often not letting the issue to be fleshed out before he moves on or simply mocks the person he's interviewing.
Maher's biggest weakness as documentarian is with his interview skills. He asks his subject a question and then doesn't even let them fully answer the question before he interjects to simply tell them that they're silly or naive for believing what they do. Further, the editing is rather weak as he overly relies on the tactic of leaving the camera on the subject as they squirm uncomfortably, seemingly stumped or merely unsure as to how to answer the question. It also makes it hard to know whether the interviewees are really ignorant on a topic they claim to be experts in or is it simply a function of Maher's editing.
Moreover, Maher claims that he is setting out on a mission to understand religion. He claims over and over that he simply does not understand. However, as the interviews are conducted he does not seem intent on understanding as much as he just wants to prove the other guy to be an imbecile.
Maher interviews a wide variety of individuals, and it's a wonder how he even found many of them. Yet, I personally came to question his honesty in subject choices when it came to the two Jewish interviews. Admittedly, this is the religion I am most familiar with and what I was mostly curious about how he would handle. The first Jewish interview was with a rabbi from a small (and much maligned by mainstream Judaism) group called the Neturei Karta. Members from this group are often found protesting any Israel rallies or Zionist endeavors. They believe that the Jews should not have not be in the land of Israel and they often align themselves with the Palestinians to reinforce their message. Having one member of a fringe subset of ultra-orthodox Judaism stand in for all observant Jews is neither fair nor appropriate in a quest for a supposed understanding of a religion to which he fully admits to not being educated in.
The other Jewish interview he conducts is with an engineer who creates items which gets around certain legal prohibitions of the sabbath so certain items can be used. And yes, while some of the loopholes are a bit extreme, he neglects to mention the minutiae of why it is permitted and under what circumstances. For instance the ridiculous looking phone he highlights is not simply to allow observant Jews to call one another to shoot the breeze on the sabbath, but rather in emergencies where the phone might otherwise not be permitted. Seeing the dishonesty in his storytelling in these instances highlighted for me the possibility and probability of him having done the same for the other religions.
The documentary filmmaker is not a journalist and is not legally or even officially bound to a set of ethical standards. However, they have generally taken it upon themselves to abide by honest rules of storytelling to ensure the trust of their viewers and subjects. It's in this arena Maher should take a lesson. His film making and storytelling would benefit greatly if he did so with an ounce of humility and honesty. He asserts himself as the voice of reason and. Often does make interesting points that should be asked and discussed by and "believer." Yet if he were truly interested in understanding his subject matter he would much benefit by allowing he interviewees speak their piece.